A powerful report that gives your in-house dev and content team the tools to boost your monthly seo and content marketing to the next level

Our SEO Strategy Report is a comprehensive and customized do-it-yourself road-map for establishing healthy and ongoing SEO and content marketing for your website.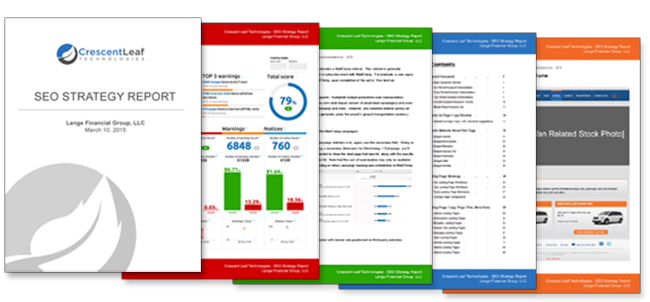 This report is perfect for businesses that already have an in-house content production staff, web developer, and solid content marketing objectives in mind. We provide you with the guidelines to optimize your entire website's on-page SEO health and will give your team the tools, knowledge and analytic skills to continue growing your SEO effort in a desired and effective direction.
This package includes an exploratory interview that addresses your unique SEO and online marketing goals. Our report provides actionable items, specific to your website, to be implemented by your web development team, along with full keyword, website and competitor analysis. We also provide explicit content strategy recommendations, within a sample  production calendar, that will keep you on track for future SEO growth.
SEO Strategy Report Deliverables
Keyword research
You likely have a list of keywords that represents your industry, service or product. We'll fine-tune your keyword selections after conducting relevancy research, competitor analysis, and explorative keyword research to ensure that you're reaching the right audience in the right places.
Full website analysis
A full website audit identifies structural problems, broken links, and missing HTML syntax that are required for a good SEO foundation. In addition, the website analysis examines the content of your website to determine strengths and weaknesses of your content strategy.
Behavioral trend analysis
We'll examine your Google Analytics account, if available, to identify usage trends on your website. This process helps us discover pain points in your information architecture, in addition to areas of your site that are working well.
Competitor analysis
We'll provide a full analysis of your competitor's Internet marketing strategies, including targeted keywords, backlink review, and paid advertising.
On-Page Optimization Guidance
A solid SEO foundation starts with ensuring that your website is configured and tagged properly. Our report will detail an actionable plan that can be implemented by your web development or maintenance team. This includes:
Recommendations for page titles, meta-descriptions, and image alt-tag descriptions.
Information architecture revisions for improved content organization and navigation flow.
Revision of page naming conventions for improved search engine reception.
Suggestions for copy changes.
Content production strategy
Continued improvement of search engine positioning requires a deliberate content production strategy. Our report will contain a sample three-month content production calendar that addresses the types of content, topics, and frequency of content posts.
Available Options:
Monthly ranking reporting
Get a monthly ranking report that shows your website's current ranking position in Google, Bing, and Yahoo. This report will also show history data and will indicate whether you've increased or decreased in ranking for each keyword and by how many positions.  This gives an accurate cross-section of your search engine indexing and can be valuable intelligence for actively guiding your content strategy to address any weak areas.
Local SEO strategy
Does your business have local presences that are relevant to specific geographic areas? If so, you'll benefit from local SEO. Local SEO leverages the power of Google's Local Business pages by creating a well-rounded SEO strategy that gets you on Google Maps and in relevant local search results.
Contact us today or call 732.331.7733 for a custom quote for your project.