Monthly SEO & Content Marketing STrategy
Add the power of our SEO & Content Marketing Strategy to your monthly marketing efforts.
An effective SEO strategy requires consistent and painstaking effort, an understanding of your website's usage analytics, and the ability to adjust your content marketing strategy in real-time based on sound data and research. Crescent Leaf's monthly SEO & Content Marketing Strategy package can empower your monthly content marketing effort. Efficiently improve your search engine ranking, lead generation, and local search exposure, in the most efficient manner possible.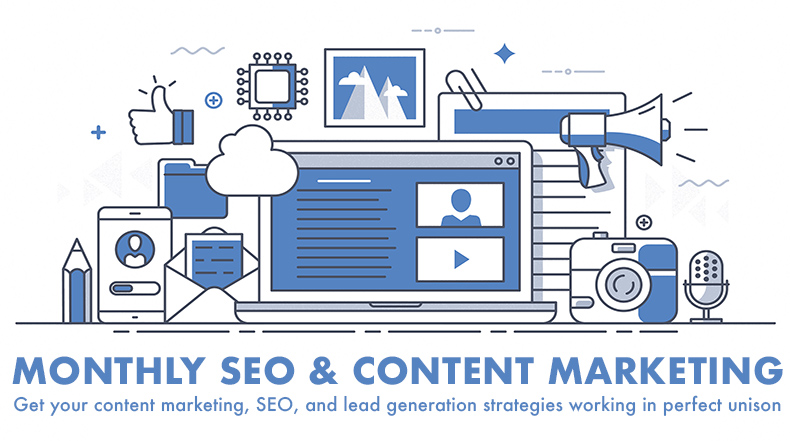 Get the following arsenal of Internet marketing tools for your business:
Strengthen Your Site's SEO Foundation
Our industry, competitor, and keyword/keyphrase research will provide the backdrop for a full on-page SEO overhaul of your website. This is a necessary first step for any ongoing SEO and content marketing effort. This preliminary effort also includes proper setup of Google Analytics and Google Search Console, valuable tools for ongoing site analysis.
Track Your Website's Search Engine Rankings
Discover strengths and weaknesses in your website's content structure by knowing exactly where your site is ranked at all times. By actively monitoring your rankings and discovering trends in your rank movement, we can effectively guide your content production efforts in a direction that maximizes the impact of your search engine accessibility.
Understand How Visitors Use Your Site
We'll analyze exactly how visitors flow through your website. Whether they're originating from a blog post, social media post, or an email marketing release, we can observe behavioral trends to identify high-traffic flow areas as well as pain-points in your information architecture flow. This ongoing data is crucial in understanding where key messaging should be placed and areas that could be changed to improve retention of visitors on your website.
Get SEO Oversight on All Content You Produce
Ensure that all content you create is fully optimized. This includes proper titling, tagging, image handling, linking and all other on-page SEO attributes that are necessary for maintaining proper SEO health.
A monthly report that continually steers you in the right direction
Our monthly report compiles an overview of your Google rankings, a review of behavioral patterns through your website, content recommendations, review of traffic flow to your website, and an outline of general recommendations to pursue for the upcoming month. You'll consistently be in-the-know with data of exactly how your SEO and Content Marketing efforts are performing. You'll also be equipped with the knowledge to make smarter and more effective decisions.
Get Crescent Leaf's monthly SEO and Content Marketing Strategy package to rocket your marketing effort to the next level. Our packages begin at $750 / month with a one-time $3,000 engagement fee for initial SEO research and full overhaul of your existing website's SEO foundation.
Contact us today or call 732.331.7733 for a custom quote for your project.